MY CRUSH 4
16 Feb 2013 - 03:27:53 pm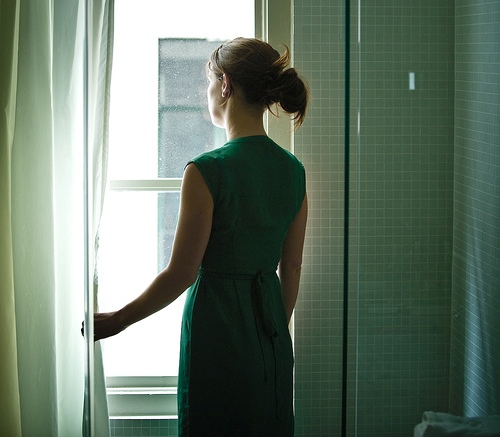 The sound of the slammed door hit my head in a resounding echo. I stayed fixed to the wall. jeez! that was really bad. My throat felt dry, i was sure it would catch fire any moment. I released myself and walked sheepishly to the fridge. My legs felt so weird and strange. I grabbed a bottle of chilled water and ran down my throat. It intensifed the hottness instead of cooling it. Miserable was nothing compared to how i felt. I downed another gulp, that felt better. I found the bed and sat down, with my head pressed against my temple. I knew I still loved Eric, just that I didn't know it was this serious. can't remember the last time I felt this way about a guy. My heart beat was racing. Eric was mad. really mad at me. my experience with Frank taught me that guys valued their ego more than bosom. I sure had pricked eric's ego and he was hurt. Damn.
I looked at the wall clock: 08:15pm. " I will die of heart attack if I don't see Eric this night and apologise." I was thinking out loud. I got up. Hurried into a green gown, picked up my keys and hurried to the door. That was when it struck me that I didn't even know where Eric was staying. CRAP. I brought out my phone and dialled his number. I endured the whole 'grimmmmmmm grimmmmmm' session without a voice. I tried again'
" Baby" he had picked. My heartbeat somersaulted. At that point, I understood how Micheal Jackson felt when he sang 'speechless'. I could hear my heart pounding, and wondered if he could hear it too.
" Baby, are you okay?" his voice interupted my thoughts.
" I was thinking if I could come over and we could try talking things out. Just tell me where you stay and I will be there." I had found my voice but I knew I was bluffing.
" There will be no need for that. I perfectly understand how you feel and I think its more of my fault. Besides its already late and inappropriate for a Lady to be seen on the road."
" What about tomorrow?" I wasn't giving up yet.
" That was part of the reason why I came by this night. My company manager called to inform me that there has been a development and I'll be needed in the head office tomorrow morning. So obviously, I'll be taking the morning flight from Enugu back to Lagos." JESUS! This is so not happening. Now I knew I would die.
" baby, are you there?" I could hear him talking but my head was no longer cordinating. I heard the dial tone and knew the call had ended. I still had the phone pressed to my ear. Not long, it rang, startling my heart. it was Eric
" Baby" "Are you okay?"
-------------Like his questions needed answers. How could I be okay with the news bomb he just dropped on me.
" Please put yourself together. I'll be right there in seconds. Damn" And I knew he would, not when a curse word followed it. I laid on the bed and hot tears graced my pillows. If pillows were human, mne would have been screaming form the way I was gripping it. God, why was all this happening to me? And why the hell was I crying? It will be stupid of me to let this man possess my heart again. What happened to me? Where was the secret lioness in me? Tears blurred my vision.
Someone kissed me deeply on my forehead. It was Eric. had I left the door open? How long have I been crying? I wanted to get up but he held me down with an invisible strength. His ams were wrapped around me, and he was whispering the words " its okay. am here now". Stop crying. I commanded myself, but my emotions rebeled against following orders. I turned to eric, leaned on him and my heart felt heavy. It was hard to decide whether I was crying because I was into him in a strange way or because I was angry at him for having such an effect on me.
he smelled of fresh Lemonade, obviously he just had his bath. I breathed him in. His grip on me tightened and I knew what was preceeding cos a bulge started growing in his jean. My chest locked.
" You're really leaving tomorrow?" It was a relieve to hear my voice sound normal even with the present situation.
" sssshhhhh.........." he whispered and started kissing my lips immediately. There was no resistance left in me again, so I sssshhhed and concentrated.
His kissing lips met my ear and he started licking and sucking. That sent shivers down my body and I gasped. The budge grew harder and I clung to him tighter. His magic finger started exploring my body like it was his jurisdiction and he knew every law guiding my body.
He found my lips again and cupped my breast in his free hand. The double sensation swept me off as I cupped the back of his head and drew him closer to me. He carefully zipped down my gown and began skimming my bare skin. Slowly he pulled the gown down and skillfully snaped my bra open. My tiny rocks balanced in his hands. He teased my nipples that had become hard and I moaned. His lips replaced his hands and he began sucking hungrily. goose pimples flooded my body making me to shiver.
Slowly, he kissed me down to my abdomen and dipped his tongue into my navel. I moaned loudly and threw my head back. I was almost there. I wanted him badly. eric held my waist and ran his tongue over my lace pant.
It was unusual for me to talk during sex and i noticed Eric wanted me to. Carefully and slowly, he rolled me over. If there was anything that was killing me, it was the care he showed my body. Orgasm was a strange experience to me. I had never felt anything like that until eric showed up.
Quickly, he worked open his leather belt and threw his trousers to hell. He placed his full erection on my ass and poured. I screamed as his wetness cooled my ass. He moaned carelessly.
Slowly, he started massaging the semen over my ass as his tongue licked my spine. Why was he keeping me waiting? I was already swollen and dripping wet.
I parted my thighs, exposing the depths of my lips as it shone with need. Eric reached in and pleasured my clits with his tongue. i let out a ragged sigh and clung to the bedsheets for support. His tongue was swimming inside me in an anti-clockwise.
"Baby pls............." i think I whispered that. I didn't see clearly but Eric was either blushing or smiling. I didn't mind.
With the slight shift of my waist, I widened my thighs and invited him in from the back. That was my best moment. Moanings, aaaahhhings, ooooohhhings flew from our lips at random.
I cradled his hips, bringing in more of his penetration. He quickened his rhythm, strenghtened the force of his thrust. I screamed and we both came at the same time.
He stayed inside of me for some time before withdrawing. he collasped on the bed beside me.
Great. We just had a mind-blowing sex without condom. That was nothing prostino 2 wouldn't take care of in the morning.
He kissed me lightly on my forehead and we bothy fell asleep in each others arms.
The morning sun was already sneaking into my room when I woke up. Eric was gone. I wrapped myself and cried. When I felt better, I got up from the bed to go wash my face. I found a note on the reading table and it said
"
sweetheart,
I'll come back for you. Promise me that you'll always be here waiting for me.
Eric"

My knees weakened. I went to the window, opened the drapes a little and made a grave committment to the one my heart longed for.